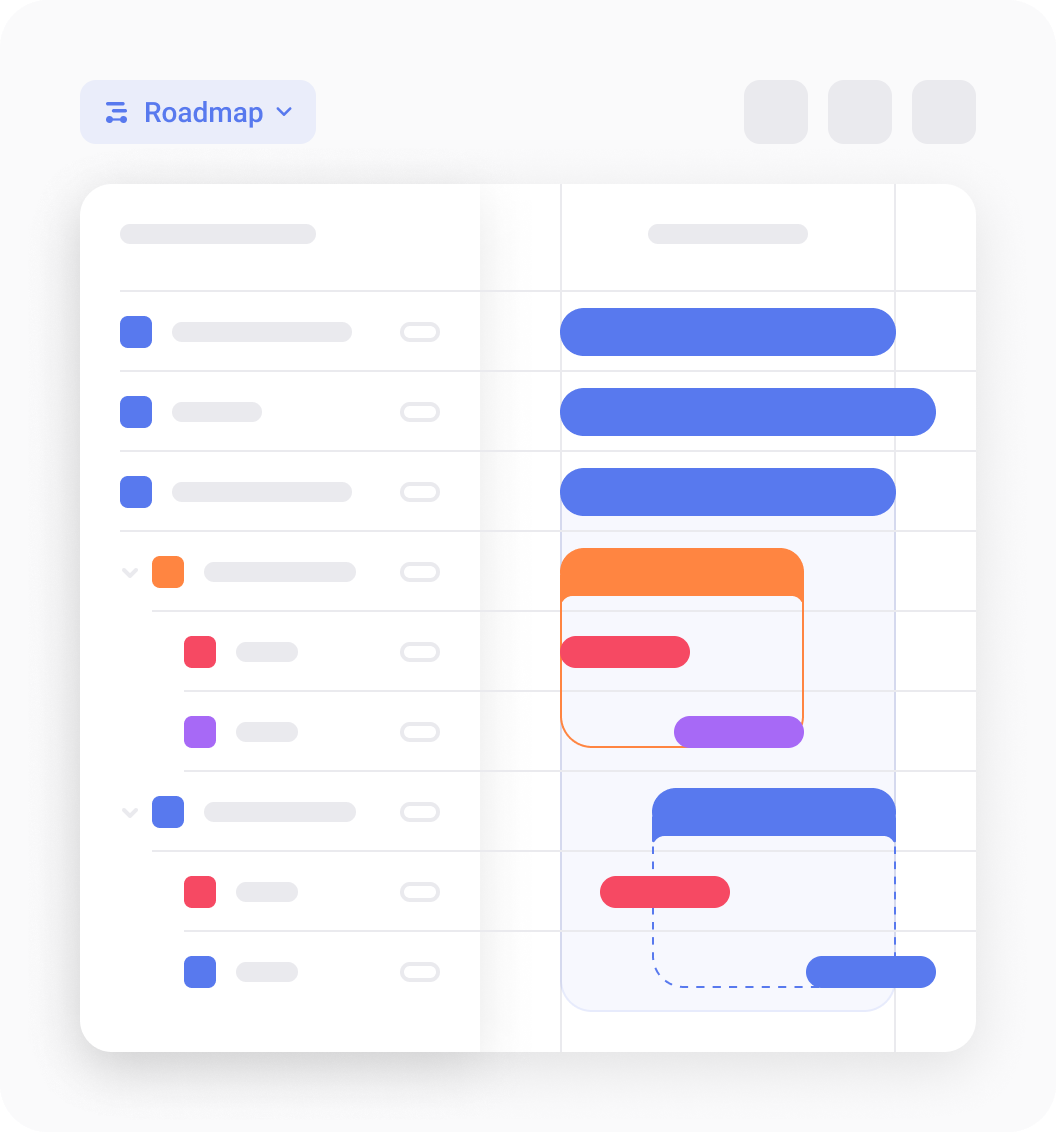 On August 31st, 2022 we launched a new feature – Roadmap for OKR. Based on our client's needs, we wanted to create something that helps with strategic planning and can turn your company's aspirations into reality. It also assists with tracking your company's performance through advanced analytics and progress monitoring.
But more about that later. Let's define how Roadmap links to our mission.
Why are we launching Roadmap?
Now, more companies are looking for a framework to measure results and manage their goals. One of the approaches is a more flexible OKR. But it happens that the company invests much time in implementing OKRs – setting strategic goals, and then they are not fulfilled. And the problem does not arise in the execution of the strategy; all issues are related to the lack of control in the execution process. And here, a roadmap comes in handy that visualizes, combines strategy with execution, and solves all these problems. A roadmap is essential throughout the product life cycle, from idea and development to launch, maintenance, and completion. It allows efficient allocation of time, finances, and resources.
So, what do these roadmaps for OKRs solve? First, you have a strategy in the form of objectives and key results, and then you have tactics for implementing this strategy. And when we combine strategy and tactics in the roadmap through visualization, efficiency and control over execution increase as part of achieving strategic goals.
How can a business benefit from a Roadmap with OKRs?
In general, Roadmap with OKRs will help with:
Providing functionality both for building a strategy and for its implementation
Visualization of the business strategy. It makes implementation more controllable so that you can see the complete picture of your goals
Building a comprehensive execution plan for your business strategy
Identification of cross-functional dependencies across teams
Achieve measurement, accountability, and transparency.
Let's take a look at the benefits a company gets by using a roadmap for OKRs from Oboard:
See your OKRs on a timeline;
Reflecting cross-project work on a timeline: collect epics and tasks from different projects on one roadmap and set the due date for them; see the dependencies inside tasks, the progress of the whole project, or planning conflicts;
View all your tasks across projects in a single table, which gets clustered if you have more than 400 tasks.
Auto bottom-up approach: automate the building of OKR timelines based on child tasks and key results; notify the owner that the objective date has been updated if we update the child task dates.
OKR Board start and end dates of any issue are then automatically connected to your Jira fields, keeping them synchronized. That way, you get to keep both Jira roadmaps and OKR Board views in sync, using Jira roadmaps on the project and OKR Board on the strategic levels.
When creating a roadmap, you form the basis for effective strategy execution. Planning is often a complex task, but it is necessary for improving the structure and efficiency of the process.
How do I get started?
To get started you can follow this link.
OKR Board for Jira and Roadmap will make the planning process as easy as possible. In addition, the Roadmap is already implemented into the Oboard plugin, and there is no need to download or configure any other plugins.