Oboard is always hard at work bringing new features to the OKR Board, and today's update brings one of the most requested features — notifications. We wanted to implement it for a while, but it was essential to make it just right and ensure that you can stay on top of all updates without becoming overwhelmed or annoyed. As it stands, the current release would not be possible without feedback from Michael, Patrick, and many other our customers.
Feature Overview
The OKR Board already allows you to tag your coworkers in the comments to Key Results and Objectives. However, previously this was a mostly cosmetic feature — the tagged user did not receive any notification that they had been mentioned in the discussion. With the Notification Center update, this has changed.
After every change you make on the OKR Board, we send out notifications to the affected users. Previously, you had two notification types:
Plans. Assignees get notifications when reaching a milestone, so they don't forget to schedule the next steps or make a check-in.
Actions. Assignees and Stakeholders get notified of changes to Objectives or Key Results.
Now, there is one more:
Tags. Users get in-app and email notifications when somebody mentions them in a comment. The correct syntax for this is @[name], just like elsewhere in Jira.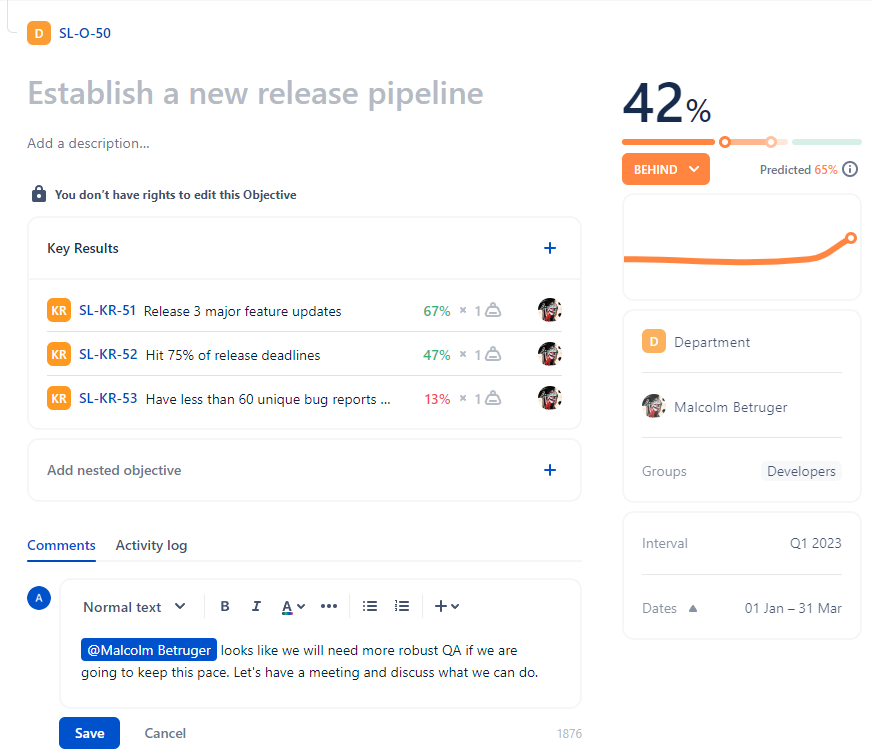 You can find the tag notifications in the Notification Center, available on the main sidebar of the OKR Board. There are also backup email notifications for users that do not check their OKR Board regularly.
Notifications are available for Jira Cloud and Jira Server customers. They are enabled by default, and in-app notifications should work without any additional setup. To receive email notifications, you need to set up email notifications in your Jira settings.
How to Use Tags Productively
The success of the OKR cycle depends on communication between departments. The new features are designed to improve collaboration and notify people of changes in the issues that are relevant to them.
Here are some ideas on the best practices for tagging your coworkers:
Share feedback on a person's results.
@John, you are doing a great job! We did not expect so much progress this soon!
Improve collaboration between departments.
@Peter, @John had used this library before in his project, so he might be able to help you. Schedule to exchange ideas and see if we can get this objective back on track.
Show your current progress and confidence level.
@Peter, I am changing the status "Behind" to "On track." Last week you deployed the prototype, and I believe we can roll the feature out on time.
The notification they receive will look like this:
Regarding Server Migration
Due to Jira deprecating Server licenses, we cannot provide further support to our OKR Board for Jira Server customers after February 24, 2024. To continue receiving support, you must transfer your Jira instance to Cloud or Data Center.
To transfer your instance to Jira Cloud without losing your OKR Board for Jira data, follow the instructions at our Knowledge Base.
Future Updates
We intend to expand the Notification Center functionality further in the near future, so stay tuned for more updates — and send any feedback you have to hello@oboard.io. We thank you all and hope you will enjoy your experience with OKR Board for Jira even more!